List of 93 best vacuum cleaners ranked based on 317.326 user reviews, 137 expert reviews and 22 test results. Updated October 2020.
Best vacuum cleaner as per our comparison
Our vacuum cleaner comparison for 93 vacuum cleaners are based on a total of 317.326 user reviews, 137 expert reviews, and 22 product test results.
Miele Complete C3 Cat&Dog PowerLine SGEF3 is the best bagged vacuum cleaner as per our product comparison results and scores 97/100. The vacuum cleaner with 890 w power consumption and 76 dB sound levels is available at £295 in online stores. Miele Complete C3 Cat&Dog PowerLine SGEF3 has a 12.0 metres operating radius and 4.5 litre capacity.
Read more here
.
Reviews

User reviews: 2556
Expert reviews: 1
Test results: 0
We have compared 11 bagless vacuum cleaners of which the Miele Blizzard CX1 Cat&Dog PowerLine SKCF3 stands the best with a score of 95/100. The operating radius of the vacuum cleaner is 11.0 metres with a noise level of 76 dB. The vacuum cleaner is available in online stores and is available at £359.99.
Read more here
.
Reviews

User reviews: 1548
Expert reviews: 2
Test results: 0
The Xiaomi Roborock S6 model stands as the best vacuum cleaner in our comparison with the price of £509. The robot vacuum cleaner comes with a run time of 180 minutes and is powered by Li-ion battery. The total score of the vacuum cleaner based on the product test is 95/100.
Read more here
.
Reviews

User reviews: 2045
Expert reviews: 6
Test results: 2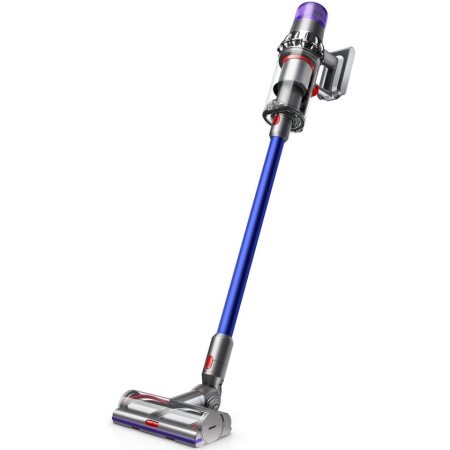 Dyson V11 Absolute is the best cordless vacuum cleaner in our comparison. The vacuum cleaner tops the chart with a total score of 94/100. The vacuum cleaner comes with a run time up to 60 minutes and is available at £707.51.
Read more here
.
Reviews

User reviews: 2175
Expert reviews: 7
Test results: 1
Data Collected for vacuum cleaners from our test/comparison
Based on data from 93 vacuum cleaners.
Floor vacuum cleaners: 34
Robot vacuum cleaners: 39
Cordless vacuum cleaners: 0
Top 10 best brands in our vacuum cleaner comparison
Only brands with at least 3 products are included.
Score distribution for vacuum cleaners
The graph shows the distribution of the score for vacuum cleaners in comparison. Miele Complete C3 Cat&Dog PowerLine SGEF3 is the best vacuum cleaner with a score of 97/100.
Price distribution for vacuum cleaners
The graph shows the distribution of price for the vacuum cleaners. The graphs show the cheapest vacuum cleaner has a price of 25 £ and the most expensive one has a price of 1200 £.
Vacuum Cleaner Comparison – Our Sources
Our vacuum cleaner comparison is based on three review sources;
User Reviews
Expert Reviews
Product Testing
We have listed below the sources we have been using for expert reviews and tests.
Video Comparison Sources
The video product comparison of 6 of 28 products from our comparison.
Video Review Sources
The video review sources of 6 of 132 products from our comparison.
Expert review sources:
Test sources:
Comparison
| | | | | |
| --- | --- | --- | --- | --- |
| Energy Efficiency | | | | |
| Power | 890 w | 750 w | 620 w | 890 w |
| Annual energy consumption | 34.0 kWh | 29.0 kWh | 27.0 kWh | 34.3 kWh |
| Annual energy price | £ 5,1 | £ 4,4 | £ 4,1 | £ 5,1 |
| | | | | |
| --- | --- | --- | --- | --- |
| Carpet cleaning performance | C | C | D | C |
| Hard floor cleaning performance | A | C | C | A |
| | | | | |
| --- | --- | --- | --- | --- |
| Dust Re-emission Class | B | A | C | B |
| Filter | AirClean | HEPA | HEPA | AirClean |
| Ideal For Allergy Sufferers | | | | |
| | | | | |
| --- | --- | --- | --- | --- |
| Noise Level | 76 dB | 80 dB | 72 dB | 76 dB |
| Capacity | 4.5 l | 1.1 l | 6.0 l | 4.5 l |
| Operating Radius | 12.0 m | 10.0 m | | 12.0 m |
| Variable Power Controls | | | | |
| Telescopic Tube | | | | |
| | | | | |
| --- | --- | --- | --- | --- |
| Height | 22.7 cm | | | |
| Depth | 28.4 cm | | | |
| Width | 49.6 cm | | | |
| Weight | 7.3 kg | 6.1 kg | 7.5 kg | 5.4 kg |
Vacuum Cleaner Guide
The world of vacuum cleaners has evolved and expanded over the last few years, with more designs and products available than ever before. While the wealth of features and functionality is great news for consumers, it can get confusing when you need to compare products before making a purchase. From small upright vacuum cleaners through to powerful bagless models and innovative robot vacuums, it's important to be aware of what's out there so you can make the best decision for your home.
When comparing vacuums, you need to choose a type and model that fits your budget and environment. From the overall design of the vacuum through to the cleaning ability, filter and dust capacity, accessories and other features, it's important to compare vacuum cleaners based on their specifications as well as their price. Let's take a detailed look at the common features and specification standards used by the vacuum cleaner industry, so you can decide where to put your hard earned money.
Types of vacuum cleaners
Not all vacuum cleaners are created equally, with a wide range of technologies and designs available for different environments and cleaning needs. Generally speaking, modern vacuum cleaners can be placed into one of the following four categories: robot vacuum cleaners, bagged vacuum cleaners, bagless vacuum cleaners, and upright vacuum cleaners. While there is some crossover between these categories, understanding these industry standards will make your decision a lot easier.
Robot vacuum cleaners
A robot vacuum cleaner describes an automated model that is capable of moving around your home without human intervention. This class of vacuum cleaner has only been around for the last few years, with a myriad of models now available to choose from. Above all else, robot vacuums are designed to make the task of cleaning your floors much easier to manage. While most models are limited to hard surfaces and short pile carpets, there are vast differences between products based on their suction power, battery life, technological features, and price.
Bagged vacuum cleaners
Traditional bagged vacuum cleaners are still very popular, thanks mostly to their efficient operation, powerful suction capacity, and clog resistant design. Bagged vacuums are also more hygienic than bagless designs, with a dedicated dust bag installed inside the main compartment and removed as soon as it's full. While it can be annoying having to remove the vacuum bag as you clean, this conventional design provides better dust protection for the user and more powerful suction capacity. People with allergies and asthma often prefer bagged vacuum cleaners with HEPA filter technology.
Bagless vacuum cleaners
Many modern vacuums employ an innovative bagless design, including a number of popular filtered and cyclonic variations. Unlike traditional bagged models, these vacuums rely on a dedicated dust canister to filter and trap the dirt. While these vacuum cleaners lack the dustless integrity and seamless design of bagged models, modern engineering has made them more efficient and powerful than ever before. Bagless vacuums are generally easier and quicker to use, with the dust canister often featuring a transparent design that is simple to operate and easy to empty.
Upright and handheld vacuum cleaners
Upright, stick and handheld vacuum cleaners are smaller and more lightweight than floor models. While they may lack the large dust capacity and powerful motors of conventional bagged and bagless designs, they are more ergonomic, and easier to handle and store. Upright vacuums are generally very convenient for quick clean-ups and spot cleaning, although their limited battery life makes them a poor choice when you want to clean your entire home. Handheld vacuum cleaners feature the smallest design, with these models often used for quick surface cleaning, pet hair removal, and other specific tasks.
Cleaning ability
Regardless of what type of vacuum cleaner you want to buy, it's important to check the cleaning ability of each model with regard to your home environment. Important factors to look at include the ability to clean hard floors and carpet, the size of the motor, the battery life, the filter technology employed, the ability to clean pet hair, and the number and type of accessories.
When comparing robot vacuums, it's also important to look into how you will control the unit, with dedicated apps and remote controls both available. At the end of the day, you need to purchase a vacuum model that suits your needs and those of your home. Vacuum cleaners are rated for their carpet and hard floor cleaning performance, with potential buyers also able to look into the energy efficiency and motor size of each model in order to compare their performance.
While you will often need to make compromises, at the very least, you should buy a vacuum cleaner that has been designed for the size and floor surface of your home. While it's important to compare the power rating of the vacuum cleaner, you should make a selection based on the Air Watt rating rather than the wattage alone.
Filters and dust emission
One of the key features to look out for in a vacuum cleaner is the filter technology employed. Above all else, the filter design used has the biggest effect on dust emission, pet hair suction and odor control, and the overall control of allergens. Modern vacuum cleaners are rated for their dust re-emission performance, with different filter systems used to minimize allergens and help prevent asthma.
Vacuums equipped with a high-efficiency particulate air (HEPA) filter are able to trap fine particles of dirt that you can't even see. The inclusion of a HEPA filter means the vacuum has been tested to trap 99.97% of emissions down to 0.3 microns in size. This level of filtration is essential for anyone who suffers from allergies or asthma. Along with HEPA filters, replaceable electrostatic filters and double-walled bags can also be used as an alternative.
Accessories and functionality
Along with the overall cleaning performance and filter design, the inclusion of accessories has a big role to play in the overall functionality of a vacuum cleaner. Typical accessories include various types of nozzles for different surfaces, extensions to improve the operating radius, and various handles and brushes to improve the overall performance. For example, some models come with dedicated nozzles and brushes for different surfaces and types of upholstery.
The performance of a vacuum cleaner can also be improved through suction control features, ergonomic emptying and carrying systems, and versatile height adjustment. The weight and size of a vacuum cleaner also have a significant effect on functionality, as does the battery life if applicable, the electric cord length, and the overall operating radius. Not only do you need a vacuum that is powerful enough to handle the demands of your environment, you also need one that is easy to use and versatile enough to handle any surface.
Additional features
When it comes to domestic chores, sometimes it's the little things that make all the difference. While most people compare vacuum cleaners based on their price and major features, it's also important to look closely at the product details. For example, the weight of a vacuum can make a big difference in how you use it, as can the size and shape of each model. Product dimensions are available from most manufacturers, as is the product weight, dust capacity, operating radius and other important specifications.
The sound of a vacuum cleaner can also have a significant effect on your cleaning experience, with some vacuums especially designed with a silent or near-silent motor. If you're buying a robot vacuum, it's important to research the companion apps and other technology used for local and remote control. Last but certainly not least, it's important to look into the colors and materials used. While some vacuum cleaners are made from inexpensive plastic parts, others feature quality steel components that have been designed to stand the test of time.
What's the best vacuum cleaner for you?
Before you purchase a new vacuum cleaner, it's important to spend some time researching your options. There are more vacuum cleaners on the market than ever before, from traditional barrel designs through to innovative new handheld and stick models. There are pros and cons associated with each vacuum type, with certain models suited to particular people and conditions.
Rather than going to a shop and picking one at random, it's much better to make an educated selection based on the unique demands of your home and budget. Traditional vacuum cleaners have an upright or barrel construction, with dust bags often used and bagless designs increasingly available. These vacuum cleaners are still the most powerful on the market, and they also have the largest dust bin capacity.
Despite these advantages, sales have dropped recently for upright and barrel vacuum cleaners, with handheld and hand stick models more desirable thanks to their low weight and ergonomic feature set. There is always a compromise you have to make, however, with the lightweight and cordless nature of these models providing them with less power and reduced dust bin capacity.
If you're looking for a truly easy to use solution, there are also a number of robotic vacuum cleaners on the market. While these models are compromised regarding their suction power and dust bin capacity, they can clean your entire home while you're at work or out doing the shopping. Advanced robot vacuums are at the cutting edge of development, with new sensors, navigation controls, and connectivity features being introduced all the time.
Like many things in life, choosing the perfect vacuum cleaner for your home is about making the right compromises. Alternatively, you can do what many people do and buy more than one vacuum cleaner. While upright and barrel designs are still the best choice for regular household cleaning, efficient stick and handheld vacuums are much easier to use for everyday cleaning tasks.
Upright vs barrel vacuums
If you're looking to buy a powerful everyday vacuum cleaner, you will need to make a difficult choice between an upright model and a barrel model. Both of these designs have been around for decades, with most major manufacturers still producing new models based on these classic design features.
Upright vacuums feature powerful motors, large dust bin capacities, and wide fully-featured vacuum heads. These models normally come with lots of attachments and are easy to alter when you move from hard floors to carpets. Upright vacuum cleaners are the number one choice of many professional cleaning companies, with their large motors and capacities making them the ideal choice for large and dirty spaces.
Perhaps the biggest disadvantage of upright vacuum cleaners is their weight, which can be a significant issue when moving around a large space or trying to clean stairs and furniture. If you're looking to buy an upright vacuum, try to get a modern model with a carpet height selector and multiple attachments.
Barrel vacuums are the obvious competitors to upright vacuum cleaners, with the classic barrel design having been a feature in homes around the world for decades. Barrel designs are generally smaller and more compact than upright models, with their lightweight design both easier to use and easier to store.
There is a price you have to pay for this level of convenience, however, with most barrel vacuums having a smaller dust capacity than upright models. It's important to note that while some people find barrel vacuums easy to manoeuvre, others don't like dragging the barrel behind them as they work.
Stick vs handheld vacuums
Handheld and stick vacuum cleaners are more popular than ever before, with technological advances having made these models a viable alternative or addition to traditional upright and barrel designs. While these vacuum cleaners are not as powerful and feature a much smaller dust capacity, they offer a number of other exciting benefits. Handheld and stick vacuums are lighter, easier to use, cordless, and perfect for cleaning furniture and soft surfaces.
Stick vacuum cleaners continue to generate a lot of market interest, with Dyson and other leading companies making various models in a range of price categories. While these vacuums were traditionally seen as a way to complement existing vacuum cleaners, they have become a popular alternative for some people who live in small apartments. While run time, suction power, and dust capacity are all limited, stick vacuums are easy to use and inspire people to clean more often.
Handheld vacuums are similar to stick vacuums in many ways, in fact, most stick vacuums can transition between stick and handheld modes. Unlike stick vacuums, handheld models are not meant for cleaning floors and other large surfaces. However, they are ideal when you need to clean furniture, car upholstery, and other soft surfaces. When buying a stick or handheld vacuum cleaner, it's important to research the battery run time and dust capacity. While compromises will need to be made, these features can be annoying when they're too limited.
What's the most energy efficient vacuum cleaner?
Large upright and barrel vacuums have powerful motors that require a lot of energy. While some of these designs have improved greatly in recent years, they are generally much less energy efficient than stick and handheld models. Smaller vacuum cleaners have the opposite problem, with their energy efficient motors generally much less powerful when used for everyday cleaning tasks.
Energy efficiency always comes at a price, especially when battery power is concerned. Along with their energy efficiency and ease of use, handheld and stick vacuums are renowned for their reduced operating time. Some models will run for as little as 7 minutes on a full charge, with 7-37 minutes being the typical operating time and about 17 minutes being average. Most vacuums have been rated from A to G according to energy usage standards, with annual energy consumption also available from some manufacturers.
What vacuum cleaner is best for pet owners?
Anyone who owns a cat or dog knows just how difficult it can be cleaning pet hair from carpets and furniture. Luckily, there have been a number of innovations over recent years, especially when it comes to filter design. A wide range of vacuum cleaners are marketed as pet hair cleaners, from large and robust uprights through to barrel models and handhelds. Along with suction power and filter technology, it's important to compare the attachments used to remove the pet hair.
Pet vacuum cleaners have specific features that are designed to eliminate pet hair from your home. Common features include powerful motors, increased airflow, HEPA filtration, and rotating motorised brush heads. Some advanced models also feature tangle-free technology in order to stop cat and dog hair from getting clogged up in the vacuum brush bar. When buying a vacuum cleaner for pet hair, take some time to look into the HEPA filtration standard. There are a number of HEPA filters available on the market, with the most advanced models able to eliminate almost all pet hair and fine dust particles from your home.
Two vacuum cleaners are better than one
While vacuum cleaner design has come along by leaps and bounds over recent years, there is still no single design on the market that can do absolutely everything. Many people choose to buy two or three vacuums in order to cover all of their bases, with one large barrel or upright model often complemented with a handheld or stick design. This can be a great solution, with large weekly cleans performed with one powerful vacuum and smaller "grab and go" cleans also easy to perform when required.
Corded vs cordless designs
When choosing a vacuum cleaner, you will have a choice between corded and cordless designs. Most upright and barrel vacuums have cords, and most handhelds and stick vacuums are cordless. Regardless of which way you decide to go, there are some important features to consider. If you're buying a cordless model, always pay close attention to the battery life and charging time. While cordless designs seem easy to use, they may be useless to you if you can't even clean a single room.
If you're buying a standard corded vacuum, remember to pay attention to the length of the cord. While a shorter cord will be fine for some houses, people with irregular wall sockets or furniture layouts may need a longer cord. When checking the cord length, it's also important to compare the length of attachments in order to work out the overall operating radius. While it might seem like a simple feature, a long cord can make your life easier and your cleaning much more enjoyable.
Bag vs bagless designs
With so many vacuum cleaners on the market and so many features to compare, the difference between bagged and bagless vacuums might seem insignificant. This couldn't be further from the truth, however, with this important personal preference changing your cleaning experience. While conventional bagged designs often feel old-fashioned in today's vacuum cleaner climate, they may provide better suction and normally require less maintenance.
Bagged vacuums are also considered to be more hygienic, with less dust leaked into the air when the vacuum is cleaned. In contrast, newer bagless designs can be easier to use. While you do have to regularly clean the filters to ensure suction performance, emptying a canister directly into your bin can be quicker and seem cleaner than dealing with a messy bag.
Common vacuum attachments
Modern vacuum cleaners come with a range of attachments, some of which can make your life much easier and your cleaning more productive. Crevice tools are typically used to clean along skirting, down appliances, and in hard to reach places. Hard floor attachments are designed to clean wood and other hard surfaces.
Dedicated upholstery tools are used to clean furniture, car interiors, and even curtains. Dusting brushes are used to clean delicate and sensitive areas. Specialised pet attachments are designed to eliminate pet hair and reduce hair tangling while pet hair is being removed.